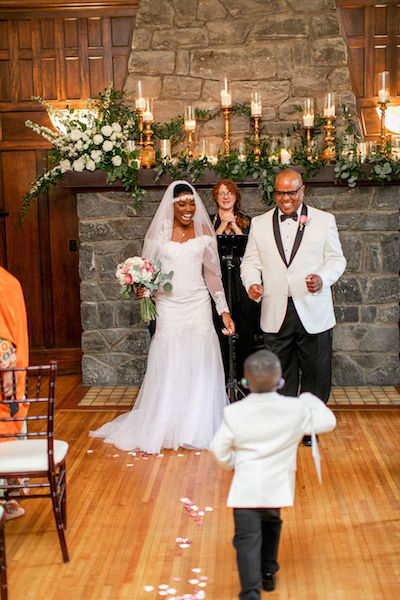 A true reflection…
Your wedding ceremony will be the central moment of your wedding day and should be a true reflection of your special love.  I will help you express and share the joy of this day with a personalized ceremony, for you and your family and guests.
Often couples wish to honor the traditions of their families while also expressing their own.  Some couples have elements in mind that they know they want to include and other couples seek more guidance.
My intention is always for you to have a ceremony that creates lasting connections in your family and community, one that your guests remember for years to come. With you, I will create a beautiful ceremony that will reflect your values, your style and your life.
We can be as unique, creative, formal, or informal, as you wish. You will have complete final approval of the ceremony.  I will listen to you, throw in a healthy dose of compassion, humor and encouragement, and in the end, we will have the perfect ceremony
My fees fall within a range depending on a number of elements including travel and whether a rehearsal is required. Generally speaking I offer three packages: the Complete Celebrant Ceremony package, the Sweet, Simple Ceremony package and the 15 Minute Minimalist Ceremony + Marriage License Signing.
No matter which package you choose I am very talented at officiating ceremony and I take pride in delivering each ceremony from my heart with sincerity and enthusiasm for all to hear and appreciate.
The Complete Celebrant Ceremony package
In the Complete Celebrant Ceremony process you will actively and meaningfully contribute to the content of your wedding ceremony.  We will have a relaxed meeting to discuss your vision for your wedding.  I'll be listening to learn about your spiritual beliefs, values and personalities.
I will send each of you a Questionnaire that I will ask you to complete separately. (You're welcome to show it to each other after you've completed them.) I hear from couples that this is a really enjoyable and special experience for them.  They find it very meaningful to take the time and space to articulate their journey to this point, the things they appreciate and love about each other and their intentions for their marriage.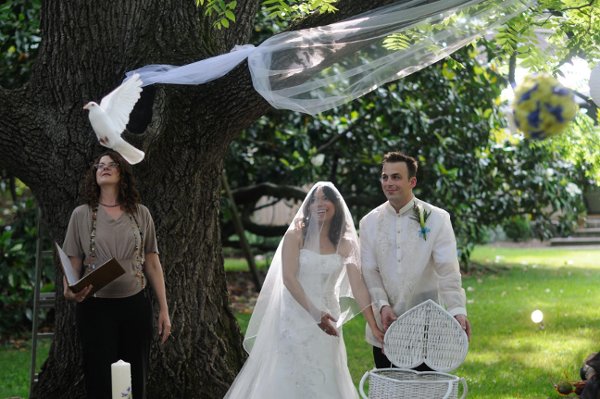 The Sweet,  Simple Ceremony package
This choice is generally for couples who want to keep their ceremony very simple and intimate or for elopements. However, many couples have chosen this option for larger weddings.
For the Sweet, Simple Ceremony we will have a shorter meeting, usually by phone, where I'll listen for your beliefs, values and personalities.
I provide you with a customized ceremony template including several selections of my favorite prayers, invocations, reading and poems chosen based on our conversation. You can say traditional vows, modify one of the samples I can provide or write your own. You can suggest favorite readings you would like to include.
Then, with all of these elements in mind I will write and design your ceremony.  I'll suggest and/or write prayers/invocations, readings, poems, rituals, vows and blessings that express your story, beliefs and intentions.  Certainly you may bring in favorite elements of your own.  If you'd like to write your own vows I can make suggestions to support you in that process as well.
You will have complete choice of your ceremony including "word for word" approval of the ceremony script.  I am available by phone or email for unlimited consultations regarding your ceremony.
The Sweet, Simple Ceremony ranges from $350 – $600 also depending on travel, whether or not a rehearsal is necessary, the number of elements included, and so on.
The Complete Celebrant Ceremony Package ranges from $450 to $750 depending on travel, whether or not a rehearsal is necessary, the number of elements included, etc.
15 Minute Minimalist Ceremony + Marriage License Signing
The choice is for couples who want a minimal ceremony with up to 8 guests in a lovely, memorable setting within 15 miles of downtown Asheville.
We'll have a quick call where you'll choose the tone for your ceremony: spiritual, religious or secular.  I'll provide you with a ceremony template based on your choice that includes  sample vows.  You're also welcome to write your own vows.  I can recommend low-cost or no cost locations for your ceremony.
The 15 minute Minimalist Ceremony + Marriage License Signing ranges from $150 – $250 depending on the venue location.
Click to image see the full photograph.
You were wonderful! We loved every part of our ceremony and how you tied it all together (no puns intended given the hand-fasting and old time saying)
Not only did we love the ceremony and how kind, hard working, helpful, and understanding you were; there were a lot of people who saw the video and commented about how lovely the ceremony was written.
From the first time we spoke, she gave my wife and I peace of mind, because it felt like talking to a friend or kindred spirit, who truly wanted to make our moment magical. We had our dream wedding with a loose, bohemian feel, in our favorite spot in the mountains on a beautiful Autumn day, surrounded by friends and family. Michelle helped weave all of those elements together with a ceremony that embodied us and described our souls perfectly, and I'm sure she can work the same magic for any couple, with any style wedding ceremony in mind.
Let's Explore the Possibilities
I'm happy to set up a relaxed, no obligation phone or video call,
scheduled at a time that is convenient for you.